CISCE Clearance The Doubt: So Many Questions Will Come in Paper
CISCE Clearance The Doubt: So Many Questions Will Come in Paper of 2024 board exam of council. There was a great dilemma among student when they hear that 2024 exam will be based on analytical thinking questions.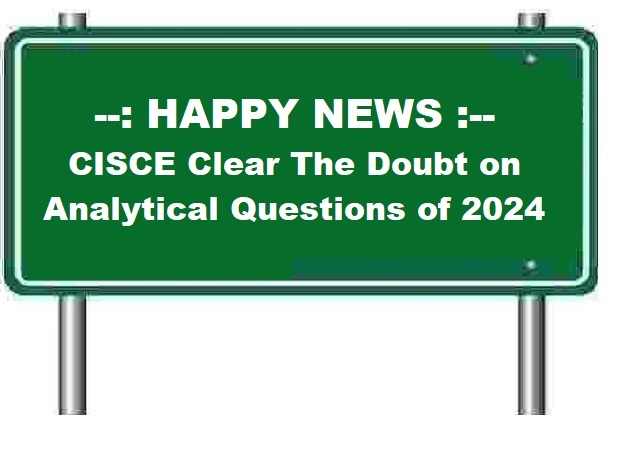 Now student take a sigh of relief after this conference held by chief executive of CISCE .
CISCE Clearance The Doubt: Why Student are in Dilemma
As per report, as soon as council declare about the type of question in 2024 board exam most of student start the mix reaction in our private survey.  Most of them want to know that how many questions of analytical thinking will be contain in board paper.
Only Questions of 10 Marks for ICSE and ISC in Each Paper
According to latest news, There would be 10 marks of questions would be included in the questions paper set for ICSE Class 10 as well as ISC Class 12 in 2024 exam, "said chief executive and secretory of CISCE".
CISCE Following the NEP 2020
Report said that The National Education Policy 202 is implemented slowly by all educational board hence cisce also want to follow the policy therefore council decided to add analytical thinking questions in next upcoming exam.  Council decided to implement it fron foundation stage to class  XII .
Also Read:  Two Level Maths in ICSE Paper
Why Only 10 Marks not Toal Questions ?
"At least 10 marks will be there for skill based questions in 2024 examination of council for class 10 and 12." because council does not want to shock the student at once.
Also Read: ICSE ISC Exam 2024 More Tougher Than Ever 
CISCE Clearance The Doubt for Next Session
These type questions will be gradually increase year by year hence become more and more tougher than earlier one, Therefore in next session there will be 20 marks in paper with such type questions.
Thanks