School Without Bag: New Update by NEP for All Private School
School Without Bag: New Update by NEP for All Private School.  Change is the law of nature. Same is happening in the education area.  Update are common now days for better result. Therefore New Education Policy (NEP) also change some important schedule for student. Now we will discuss this magical update in details.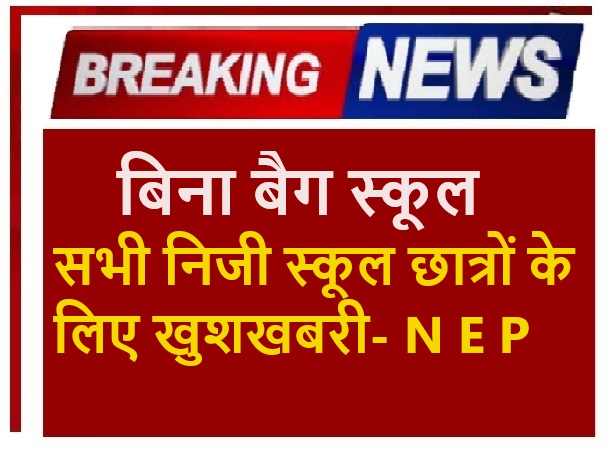 School Without Bag: Happy News for All Private School Student
School Without Bag: The heavy load of bag creating many type dis order among student, "said WHO". student of lower class carry heavier load of bag on their shoulder daily. Therefore NEP became force to change the old system in new one. This update may be very useful to minimise the physical pressure among student .
Also Read :  Two Board Exam But Not Necessary Both
 No Bag in School for 10 or More Days
According to latest news All the private school maintain this new policy in their school in which student would come to school without bag. School authority can increase the number of days according to their need. Although NCERT has also issued such circular earlier but there was no effect over the guideline.
Rule for Class Nursery to 10th (Non Govt)
As per guideline this new rules would be applicable for class nursery to class 10th. This rule would be only followed by all non government school such as ICSE / ISC , CBSE and State Board School .There is clearly mention in circular that class 11 and 12 student would not be applicable in this new rules.
Only Books as Schedule but Not Note Book Daily
One extra rule has been also create for convenience of student. Student would bring only those books daily which is in schedule for certain days as time table. Note book (Answer copy) would not be allowed to bring daily whether it is the turn of this subject.
All Private school gives a book list with Noteboo0k  during admission to parent and force to them buy all books . Book seller also play important role to sell all bundle set . In this bundle only few of them are important and rest are not useful,"said in a survey".
Also read : Will There Be Board Exam in 2024 or Not
What to Do Without Bag
According press report student who does not bring bags would be sit with other student on same bench and share books of nearby student. Only two student would be sit on a single bench.
Also Read : Effective Study Plan: for 2023-24 Session
Thanks