Which School Board is better for Class-11, Check Detail Analysis
Which School Board is better for Class-11?, Check Detail Analysis Here. This is the common question of each student after passing 10th exam .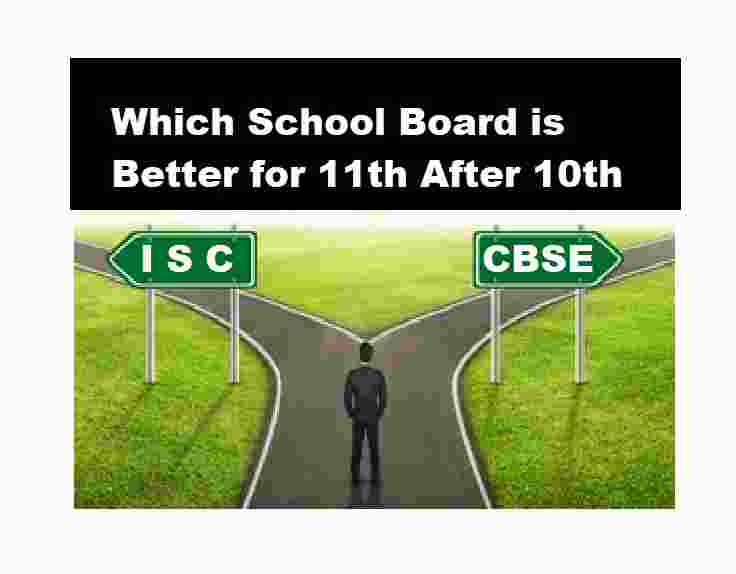 Therefore our team analysis the  pros and cons  of two most common board of India. lest us start.
Which board is Better After 10th? 
There are two choices  CBSE,  ISC other than State Boards For your benefit, we've put together an overview of each of these boards as well as their pros and cons to make a firm decision on board for 11th class.
Is ISC Board (CISCE) Better for Class 11?
CISCE: The Council for the Indian School Certificate Examinations is a private board, which offers curriculum for class 11th and 12th in India as ISC.
Pros
Cons
· The syllabus has equal focus on Science, Arts & Language.

· Offers a large variety of subjects to choose from.

· Ideal for those interested in more applied learning than rote learning.

· The English syllabus is considered to be best in the country.

· Greater focus on practical learning but not as much as ISC.

· The syllabus is considered tougher and more extensive than CBSE.

· The comparatively tougher syllabus can hamper the focused approach required for the Engineering or Medical competitive exams.
Is CBSE Board Better for Class 11
CBSE: The Central Board of Secondary education is one of the most popular boards of education in the country. Most of the Central government schools are run by CBSE Board.
Pros

Cons

· If your parents have a transferrable job then CBSE could be ideal for you as almost every city in India has a CBSE school.

· CBSE gives you an edge as the syllabus are followed by most  competitive exams like JEE, NEET, etc.

· The syllabus has greater flexibility and is more student-friendly as compared to the State Boards.

· The emphasis is on an overall growth of students with encouragement in sporting and extracurricular activities.

· CBSE certificate is recognized throughout India.

· The approach is more theoretical and not much emphasis is given to real-life concepts behind the science.

· Fewer subjects when compared to ISC

· The focus is mainly on Maths and Science and not much importance given to core English knowledge.

· The student picks a stream in 11th & 12th i.e. Science, Commerce, Arts, etc. instead of individual subjects.
 Conclusion 
To conclude, which school board to choose, depends on your priorities / economical / Preparation and what do you want to do in your life.
–: also visit :-
ISC Class-11 Textbook Solutions, Paper, Notes, Syllabus
Thanks