Specimen 2021 ISC Class-11th Sample Model Paper
Specimen 2021 ISC Class-11th Sample Model Paper has been released. We provide All Subject Specimen Paper  for ISC Board Class-11. These specimen Paper for ISC Board Sample Papers for Class 11 are available here. So Students can view ISC Specimen Sample Model Paper for their upcoming examination.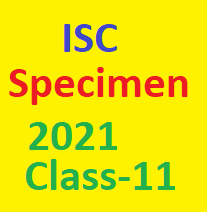 Specimen 2021 ISC Class-11th Sample Model Paper
With the help of ISC Class 11th Sample Specimen Paper, students can get an idea about what kind of questions are asked in the examination. Hence By practicing the sample papers, students can identify their strong and weak areas.
Sample Model Papers-2021 ISC Class-11th
Indian Certificate for Indian Secondary Education (CISCE) Class 11 Model Question Paper 2021 Modified Model Question Paper 2021 Indian School Certification Examination Council announces the revised dates of Indian Certification for Secondary Education Standard 11th examination. Examination will start on March, 2021,
Advantages of ISC Class 11th Sample Model Papers:
These Specimen 2021 ISC Class-11th help you in revising your learnt concepts.
Since they are based on the Further Reduced Syllabus, so they help you in giving a feel of the final exam. This actually helps in improving your performance on the final day.
These papers aid in finding out your weak points so that you can further brush up your skills.
Preparation Tips for Board Exam-2021
Your Chapter Wise study of all subject must be finished by November.
Focus on Specimen Board Paper .
Try to solve paper given in your text book.
Use key word in your answer.
Prepare yourself according Date Sheet for 2021 exam.
---
Subject Wise Release Specimen Board Paper 2021 for ISC Class-11
English Language (English Paper – 1)
Literature in English (English Paper – 2)
Chemistry (Science Paper-2)
Biology (Science Paper-3)
Economics
Commercial Studies
Physical Education
Computer Applications
Hindi
History & Civics (H.C.G. – Paper – 1)
Geography (H.C.G. – Paper – 2)
Physics (Science Paper-1)
Legal Studies
Environmental Applications
Technical Drawing Applications
Home Science (Revised)
Hospitality Management
Return to – ISC Class-11 Text Book Solutions, Paper, Notes, Syllabus
Thanks
Please share with your friends