Which Publication is Better for IIT JEE Preparation
Which Publication is Better for IIT JEE Mains / Advanced Preparation.  The student who are preparing for JEE / IIT exam must know the best books for Maths / Physics  / Chemistry.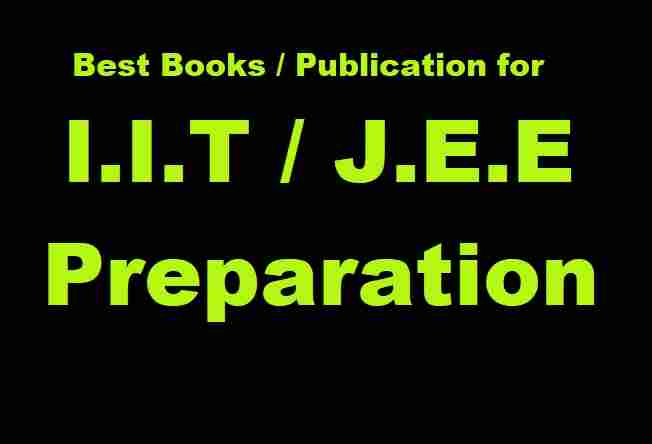 Therefore we are giving suggestion to crack the JEE / IIT exam in first attempt. Although you can choose own books.
Best Publication  for IIT JEE Preparation of Physics / Maths / Chemistry
There are a lot of books for IIT JEE preparation in offline/online mode. But many questions are blowing into the  mind of student.  best books of Maths / Physics / Chemistry for iit jee self-study / preparation .  How can crack the JEE / IIT in first attempt without coaching. Some student also ask that how to prepare for iit jee from class 6 /7/8/9.
 How to Choose Right Books for IIT / JEE  Preparation
While choosing JEE books, remember to look at the year they were published.

Always choose books that have IIT JEE sample papers as well as solutions.

Choose JEE Books that you are familiar with and that are written in a simple manner.

Talking to a teacher or a student who has taken JEE Main before will be helpful.

Always choose the most recent editions and make sure they include the most updated exam pattern.

Books with solved problems and practice questions at the end of each chapter can help you prepare better.
Best Books for Preparation
H. C. Verma Concepts of Physics.
DC Pandey Understanding Physics.
I. E. Irodov Problems in General Physics.
Cengage Maths.
A Das Gupta IIT Mathematics.
Arihant Mathematics for JEE.
Modern Approach to Chemical Calculations by R C Mukherjee.
Organic Chemistry by O P Tandon
Physical Chemistry for JEE Main & Advanced by Vipul Mehta.
Concise Inorganic Chemistry by J D Lee.
Physical Chemistry by P W Atkins
Advanced Problems in Organic Chemistry by M S Chauhan.
Narendra Awasthi for Chemistry
Textbook of Class 11/12 is Also Better
If you are currently studying in class 11/12 then your textbook is also a good helper for maths / Physics and Chemistry. Some student buy refresher books which contain a lot of practice question at last of each chapters. study of NCERT books also play an important role.
Conclusion
Any books provide you only guidance about he format / Type of question / pattern of exam only. But the topper said that self study is more effective and play main role in cracking the exam. Therefore self study is the best books/ publication for success in any exam.
— also visit:–
Thanks