ISC Date Sheet 2023: 12th Time table PDF Download Here
ISC Date Sheet 2023: 12th Time table PDF Download Here.  As per CISCE latest guideline the academic session 2022-23  exam to be conducted in ONE EXAM format while previous year was in two exam format . You can check here expected date sheet for ISC Class 12 2023 exam .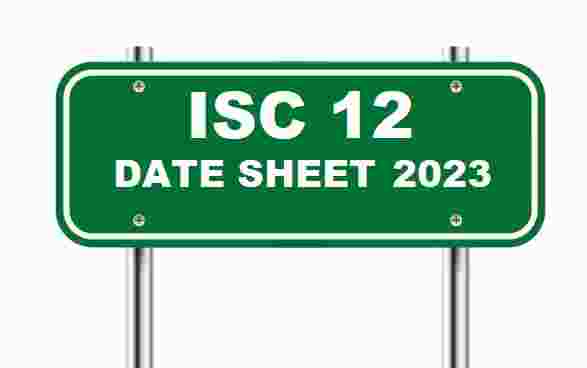 ISC Date Sheet 2023: 12th Time table PDF Download Here
According to latest news there is no official announcement of date sheet however the expected date sheet has been given below as prescribe by expert. CISCE has been officially announce on 20th May Circular that the exam of 2022-23 session will be held in February / March 2023.
ISC 12th Time Table (Expected) Download PDF
CISCE is expected to announce the ISC 12th exam dates 2023 in October /November for 2023 board exam. This exam will be based on Revised syllabus relaesd by CISCE.
The ISC exam date sheet / time table will be announced on the official website cisce.org. It'll mention the exam dates for subject wise with the day and timing. Below, we have given the ISC time tables 2023 based on expert suggestion
ISC Class-12 Time Table for 2023 Board Exam (expected)
Expected
Date/Month
Subject
Feb 2023
English Literature
Feb  2023.
English Language
Feb  2023.
Chemistry
March 2023
Elective English, Hospitality Management, Hindustani Music etc.
March 2023.
Physics
March  2023.
Hindi
March  2023.
Geography, Geometrical & Mechanical Drawing, Electricity and Electronics
March  2023.
Commerce
March 2023.
Mass Media & Communication
March 2023.
Mathematics
March  2023.
Biology
March  2023.
Biotechnology Paper 1, Environmental Science
March 2023.
Home Science
March 2023.
Economics
March 2023.
Accounts
March 2023.
History
March 2023.
Sociology
March 2023.
Political Science
March 2023.
History
April  2023.
Psychology
April 2023.
Physical Education
April  2023.
Business Studies
April 2023.
Legal Studies
How Can Prepare for ISC 12th Board Exam
First of all analysis the revised syllabus. So that you can find out which chapter include / reduce from syllabus for 2023 board exam. Then Prepare a self made Effective Study Plan which you can follow . Start to understand the chapter of each subject then Solve the Exercise of your Textbook. After that deeply analysis the Previous Year Question Paper and at last Solve the Specimen Paper of 2023 released by CISCE.
Thanks