Two Board Exam: Choice to Appear for Class 10th and 12th Exam
Two Board Exam: Choice to Appear for Class 10th and 12th Exam. Happy news for student going to appear in exam. Education system can change in a great deal now. If you are also student of class 9, 10, 11,12 then this article is for you. There may be very happy update on education system in our country. Let us start the cream of topic now.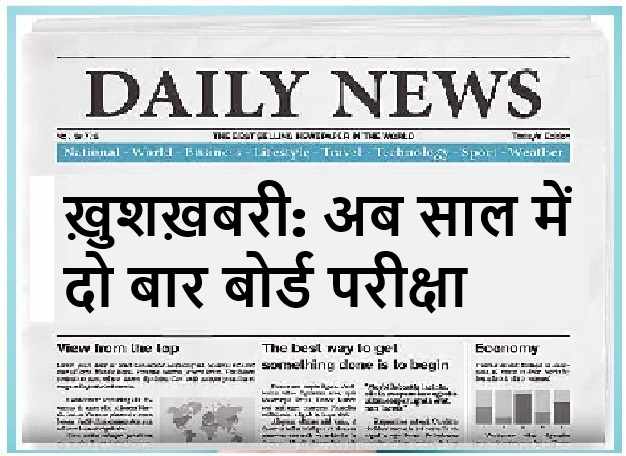 Two Board Exam: Semester Wise Paper for Class 10th and 12th Exam
Two Board Exam: As per report , The education department is going to prepare a new plan to student. according to this plan there may be semester wise system for class 9 to 12 student . Although this type system of semester wise is currently adopted in higher education in our India. This new system of exam would be more student friendly, "said education department".
NCF was released
The final NCF was released on Wednesday. While the detention policy evoked mixed reactions from schools and parents, the state is still to issue a government resolution (GR) for it to be implemented in the current academic year
National Curriculum Framework (NCF) for School Education, 2023
According to latest news that Students in class 9 and 10 will now have to mandatorily study three languages including two Indian native ones while students in classes 11-12 will have to study one Indian and one other language, according to the New Curriculum Framework (NCF). The NCF has been prepared according to the new National Education Policy (NEP) by the national steering committee, headed by former ISRO chief K Kasturirangan
Option to Choose in Any One Board Exam
There would be option to choose the student for appearing in board exam . The pressure of a single exam would be divide and reduce so that student can feel the exam without hypertension. Student can choose to appear in any one exam in which he/ she has completed his/her preparation in comparatively better.
One languages More for  class 9 to 12 students
At present, class 9 and 10 students study two mandatory languages and class 11 and 12 students study one language So far, the students from 9 to 12 had to mandatorily study five subjects with an option of adding one additional languages.
According to the recommendations made in NCF, the number of mandatory subjects will be seven for classes 9-10 and six for classes 11-12.
Appear in a subject Whenever Ready
The NCF has recommended that in the long term, all Boards should change to semester or term-based systems, where students can be tested in a subject as soon as they have completed the subject, which would reduce the content load being tested in any one examination.
— also visit:–
Thanks