Less Marks Don't Worry: CISCE Magical Update
Less Marks Don't Worry: CISCE Offer to Improve Result. As you know that ICSE ISC result were declared on sunday  at 3.00pm. Student of CISCE checked the result and gives the mix response.
Less Marks Don't Worry: Student Claim That ….
After viewing the result, the student of cisce given mix response over the result. Although student of ICSE were almost satisfied with their marks while the student of ISC a few of them claim that they have got less than their guess. They also claim over the marks of internal exam.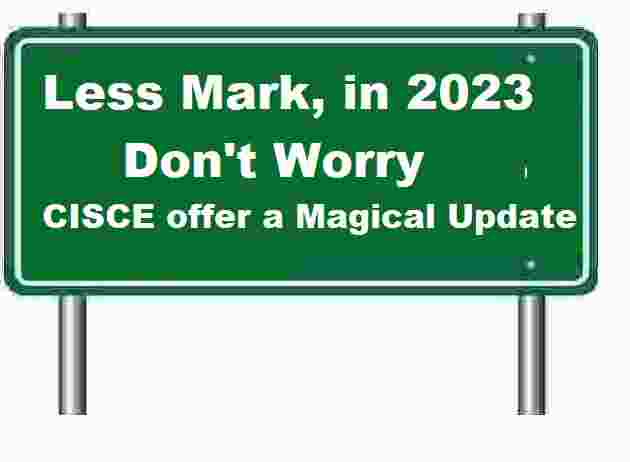 Now What Can Do if Less ….
If you are not satisfied with your marks then don't worry, There is still hope that you can increase your marks potentially. This option is only given if you have passed  the exam but could not gain honourable marks.
CISCE Ecofriendly Update Help You — Improvement
According to latest guideline, CISCE offer you to attend the improvement exam for such type student. This notice is released by cisce . Read the circular carefully and follow the guideline.
Introduction of Improvement Examination for ICSE Year 2023
In keeping with the recommendations of NEP 2020, in addition to the existing Compartment Examination, CISCE has decided to introduce Improvement Examination w.e.f. the Examination
Year 2023, thus giving a chance to the candidates to improve their performance in any ONE subject I paper of their choice for which they were confirmed for the Main Examination
Focus on Last Date of Improvement 2023
Please note, the Principals of the schools concerned will be able to register the candidates for the Compartment Examination and the Improvement Examination from l 9th June, 2023 to 23rd June, 2023, through the CAREERS Portal.
— visit also:–
which school board is better for IIT JEE and NEET point of view
ISC Class-11 Syllabus 2023-24 Session
Thanks