Get Original ICSE Marksheet at Digi Locker Now, Check How
Get Original ICSE Marksheet at Digi Locker Now, Your original result will get in your school / college after a week. If you have any urgent for next class admission / comitative exam then you can download your marksheet through Digi Locker now. very simple step given to explain the process .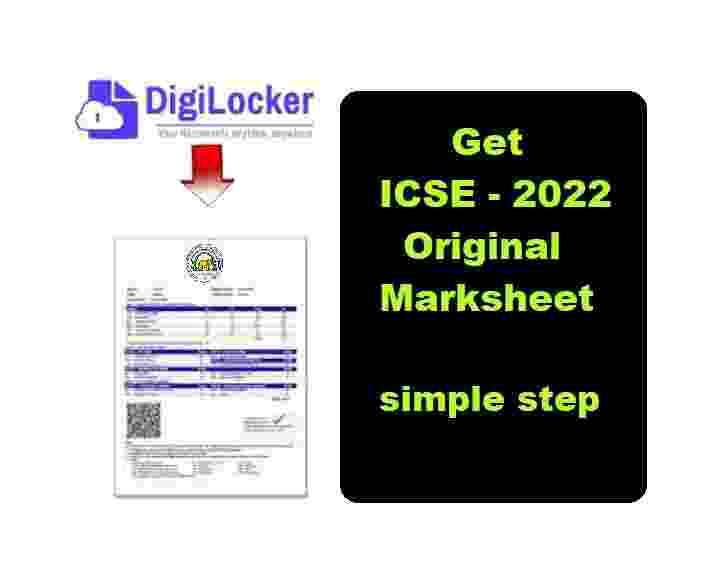 The first question is what is Digi Locker and what can some one get here while second question is that how can some one download any document. Last question is can Digi Locker document treated as original. If you have above question then  this article is for you. So let us start now.
What Is Digi Locker And Its Importance
We carry important documents such as Aadhaar cards, driving licenses and PAN cards in our wallets. It's risky since you could misplace them. It isn't just an inconvenience, your personal information can be at risk, if they fall into the wrong hands.
Is Digi Locker operated by the Government of India?
There are apps that let you store digital copies of important documents but they may not always be government approved. Digi Locker is the app operated by the Government of India and it lets you store a range of documents such as your school and college mark sheets, passports, ID proofs and many more in the digital form. This means, your documents travel with you on your smartphone
Is it safe?
Digi Locker is secure to use. The app is designed with all the necessary security measures to keep your personal data protected. The app is hosted under ISO 27001 standards to secure your personal and financial assets information
How to use Digi Locker first time?
 Visit at  digilocker.gov.in . 
Click on Signup to proceed.
Enter your Mobile Number which must be linked with your AADHAR and click on Continue
Enter the One Time Password (OTP) received in your mobile number and click on verify
Set your Username and Password of your choice and click on Signup.
Enter your AADHAAR number. Mark the declaration box and click on Submit .
Enter the OTP received in your mobile number and click on the verify button
This completes your registration procedure to create Digi Locker account.
Get ICSE Marksheet 2022 through Digi Locker
Visit at  digilocker.gov.in . 
Click on sign in . (at top area of home page)
Enter your mobile / adhar number or 6 digit security pin
click sign in button (at bottom of dialog box)
Results will be displayed on the screen after you mention your credentials .
You can download it as original which is digitally approved with signature already.
–: also visit :–
Thanks