CISCE Admit Card Invalid if These are Disappear, Check What are they
CISCE Admit Card Invalid if These are Disappear,  The Council for Indian School Certificate Examination CISCE exam is going to held from middle of February in ISC while in ICSE would began from last week of February.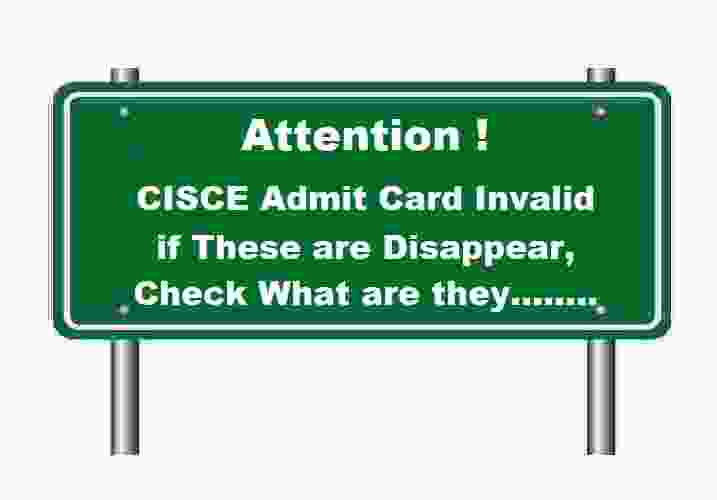 Therefore Admit card cum hall ticket has been released. Most of you have got your admit card now . But you should examine your hall tricket to check whether following entry has been mention. if found any error contact to following given authority immediately.
CISCE Admit Card Invalid if These Entry disappear
Admit card cum Hall ticket is the most important for student appearing in CISCE exam of 2023. Therefore the importance of admit card is very necessary for appearing in exam The ICSE 10th / ISC 12th Admit Card 2023 will contain the following details:
Information Mention in CISCE Admit Card 2023
Colour Passport Photo
Name of conducting authority (CISCE)
Name of the student
Roll Number
Application /Registration number
School Name
Exam Center name
Exam Center Code
Scanned signature of the student
Date of Birth
Subjects Choosen with Date and Time for Exam
Principal Stamp and Siognature
Check Immediately your Hall Ticket without Delay
According to the press reports there may be error in some admit card due to certain technical reason. Hence you should examine your admit card carefully and be confiorm that all given above 12 topics has been mention clearly.
If Error Immediate Contact to Your School Office
If you get any information faulty/incomplete / blanks you should immediaely contact to you school office from where you get admit card . So that it can be corrected within / before your board exam started.
–: also visit :-