School Reopen 2023: Again Increase 10 Days Summer Holidays in These state
School Reopen 2023: Latest News Today. When will school reopen after summer vacation/holidays.  there are extension on school reopening date in India on summer holidays.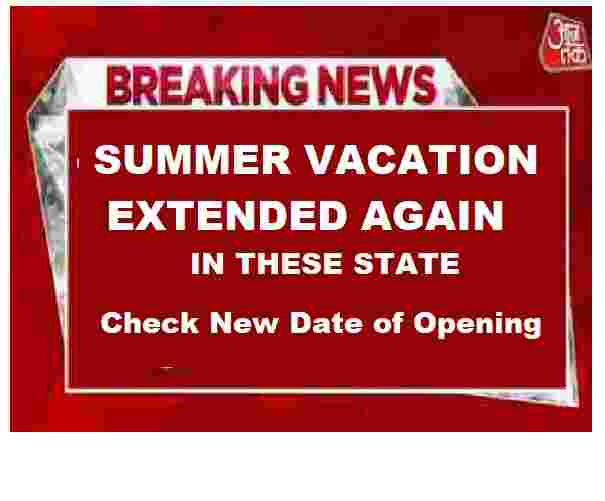 Student are enjoying their holiday currently. There is state wise list on todays latest news for reopening the date of school in India.
School Reopen 2023: Summer Vacation Extended by 10 Days
School Reopen 2023: When will school reopen in India after summer holidays/vacation/ break? This is the common question nowadays among students. As you know that each board of education declare separate date for reopening the school.  Therefore No any common date for all board.
State Wise List of Reopening School New Date 2023 
There are State wise list of  school reopen date in India after summer vacation.  Except these given state board list , There is two other educational board CBSE and ICSE/ISC. List of these two board will be differ from state board list. List of these two board is also given just after State Board list.
Uttar Pradesh
The academic calendar predicts that the summer break will start from May 21 to June 20 as earlier notice.. The education department issue a new circular on 8th June telling that now school in UP will be open in 26th June 2023.
Madhya Pradesh
School reopen date  in Madhya Pradesh was on 16th of  June 2023 as per old advisory.But taking action on weather report the school holidays extended. now the school would be open on 26th of June 2023.
Andhra Pradesh
The Andhra Pradesh State Government has released the school calendar for the summer break. Beginning on May 1, schools will be closed till June 12, announced by S. Suresh Kumar, the Commissioner of School Education.  School reopen on 13th of June 2023.
Tamil Nadu 
Tamil Nadu State Board are closed for the next summer break, which starts on April 29. Classes for grades one through five will resume on June 5 So open on 6th June and for grades six through twelve on June 1, and open on 5th of June.
Maharashtra
Schools in Maharashtra state will reopen on June 15 with the exception of Vidarbha. The decision further stated that those in Vidarbha will restart on June 30.
Odisha
The Odisha Department of Education reports that the summer break would run from May 5 to June 18 and reopen on 19th of June 2023.
Jharkhand
The summer break in Jharkhand will be held from May 21 till June 10. The start of the forthcoming academic year 2023–24 and reopen on 12th june as 11th falls on Sunday.
Kerala
The 2-month summer holiday began on April 2 that would last until the end of May. The summer break for classes 1 through 9 was declared by the minister of education, V Sivankutty. On June 1, the next academic year 2023–24 will start
West Bengal
Update soon as we could not get any final report from sources.
Gujrat
Summer vacation will be from 1st May 2023 to 4th June 2023. The new semester will start from 5th June 2023 after summer vacation.
Punjab
As per report the school will be reopen in Panjab on 4th of July 2023. although holidays was till 30th of June. but there is Sunday and Guru Purnima on  Monday.
Telangana
In Telangana the state government announced the reopening of school after summer break on 13th June 2023.
Rajasthan
In Rajasthan school will be reopen on 3rd of july 2023 as state government calendar. there is no extension released.
Jammu Kashmir
As for students of Classes 9 to 12, summer holidays would begin from May 30. Schools reopen in Jammu from July 9.
When Will CBSE / KVS School Reopen in 2023 After Summer Vacation / Holidays/ Break
As per report  CBSE / KV school have different time of opening in separate state.. In UP and MP the  KV/CBSE school will reopen date was on 16th of June as earlier notice but it is extended and as latest report it would be open now 26th of June 2023.
ICSE / ISC School Reopen Date 2023 After Summer Holidays
According to latest news the CISCE affiliated school ICSE/ISC would be reopen  on 3rd of July 2023. The ICSE/ISC school of Jammu Kashmir reopen date is much different.
— also visit —
Earning Money Online: Became Fashion of Students
Which Stream is Better for Class 11
thanks