ICSE Class-8 Biology Goyal Brothers Prakashan Solution.
ICSE Class-8 Biology Goyal Brothers Prakashan Solution. . Goyal Brothers Prakashan Publishers is very popular series among ICSE students. Therefore  exercise Questions of Goyal Brothers Publications elementary Biology for ICSE Class 8th is solved by our expert team of Biology.All type question MCQs,
ICSE Class-8 Biology Goyal Brothers Prakashan Solution.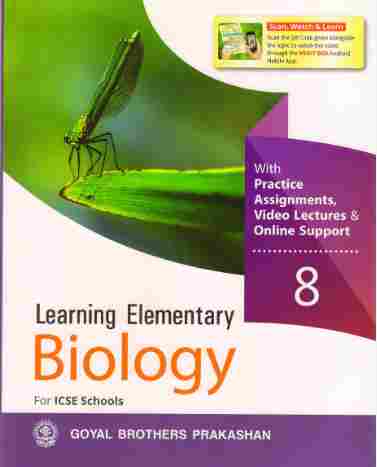 | | |
| --- | --- |
| Board | ICSE |
| Class | 8th |
| Subject | Biology |
| Publisher | Goyal Brothers Publications. |
| Topic | Exercise Question and Answer. |
| Session | 2023-24 |
Hence During Solutions of Goyal Brothers Publication Elementary Biology for Class 8th, We Solved MCQ , True False, Fill in the blanks, Exercise Questions including Figure Base Problem. Therefore This post is helpful  to understand ICSE Class 8th Biology in more effective way.
ICSE Class-8 Biology Solutions Goyal Brothers Publishers
Goyal Brothers Publications is most famous among ICSE Student. Yet there are many other publications for ICSE Class-9 Biology. Therefore We provide Step by Step Solutions with keyword of All Type Questions. So We include True False Questions, Exercise Questions, Figure Based Questions Skill Type and Other Important Type Questions Solved.
How to Solve ICSE Biology Class 8 All Publications
We should follow following rules strictly.
Read Carefully Every Chapter.
Make Self Written Chapter Wise Notes .
Highlight important Point on Your Notes.
Try to understand the Basic Concept.
Solve All example of your Text book.
Then Try to solve exercise All Type Questions.
Take Help of Solutions given with Keyword
Chapter Wise 

Solutions

of Goyal Brothers Biology for ICSE Class 8th
Chapter 2  : Reproduction in plants and animals.
Chapter 3 : Ecosystem
Chapter 7 : Health and Hygiene.
Chapter 8 : Food Production
Unit 1 : Bacteria and Fungi.
Unit 2 : Agriculture.
Unit 3 : Horticulture.
Unit 4 : Organic Farming and Green Revolution.
Unit 5 : Animal Husbandry.
Return to – ICSE Class -8 Text book Solutions
Thanks.
Share with your friends.