Concise Biology ICSE Class 10 Solutions Selina Publishers
Concise Biology ICSE Class 10 Solutions Selina Publishers. Solutions of  Progress Check  ,MCQ ,Very Short ,Long Type and Skill Type Questions  .Step by Step Solutions of ICSE Class 10th Concise Biology. Selina Publications series Books are most popular among ICSE student. Visit official website CISCE for detail information about ICSE Board Class-10.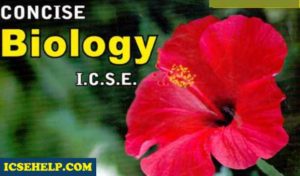 Concise Biology ICSE Class 10 Solutions Selina Publishers
This post is very helpful for student of Class 10 ICSE Board . Selina Concise Biology Solutions is helpful to understand the topic in more effective way. Hence all Type questions are solved and explained by expert teachers as per ICSE board guidelines. By studying these Selina ICSE Biology Class 10 Solutions you can easily get good marks in ICSE Class 10 Board Examination and using ai content generator you can always generate an essay on any topic you need.
---
Timing Schedule for ICSE Chemistry Examinations
 There are one paper of Biology for 2 hours. Although 15 minutes extra has been given for reading the paper . Hence Maximum marks is 80 while 20 marks is given for internal Assignment
---
Famous Biology Writer (Publication )for ICSE Class 10th
Mishra Biology for ICSE Class 10
Srijan ICSE Biology for ICSE Class 10
Goyal Brother Publication Biology for ICSE Class 10
---
How to Solve Biology for ICSE Class-10
Note:– Before viewing Solution of  Concise Biology Solutions Selina Publishers .Read the Chapter Carefully to understand the concept in better way .
Then solve all example of your text book.The Previous Year Solved Question Paper for ICSE Board is also an important factor for Practice of ICSE Biology. Get idea of Solving from ICSE Specimen Sample Paper for Class-10 Exam of Council . If you have any doubts while going through our Class 10 Biology Selina solutions, then you can go through our comment Section for Biology.
---
Get Chapter-Wise Solutions of Concise Biology for ICSE Class-10 Selina Publishers
Cell- The Structural and Functional Unit of Life.

( Not in Syllabus)

 

Genetics- Some Basic Fundamentals (

Not in Syllabus-2021).

       

Progress Check
---
Thanks
Share with your friends
Return to – ICSE Class-10 Text Book Solutions